Emille received stem cells from his big brother
Emille Nyembo, 2, from Oulu suffers from sickle-cell anaemia that has been treated with red blood cell exchange transfusions and a stem cell transplant. As a result of increased immigration, more and more foreign-born blood donors are also needed in Finland.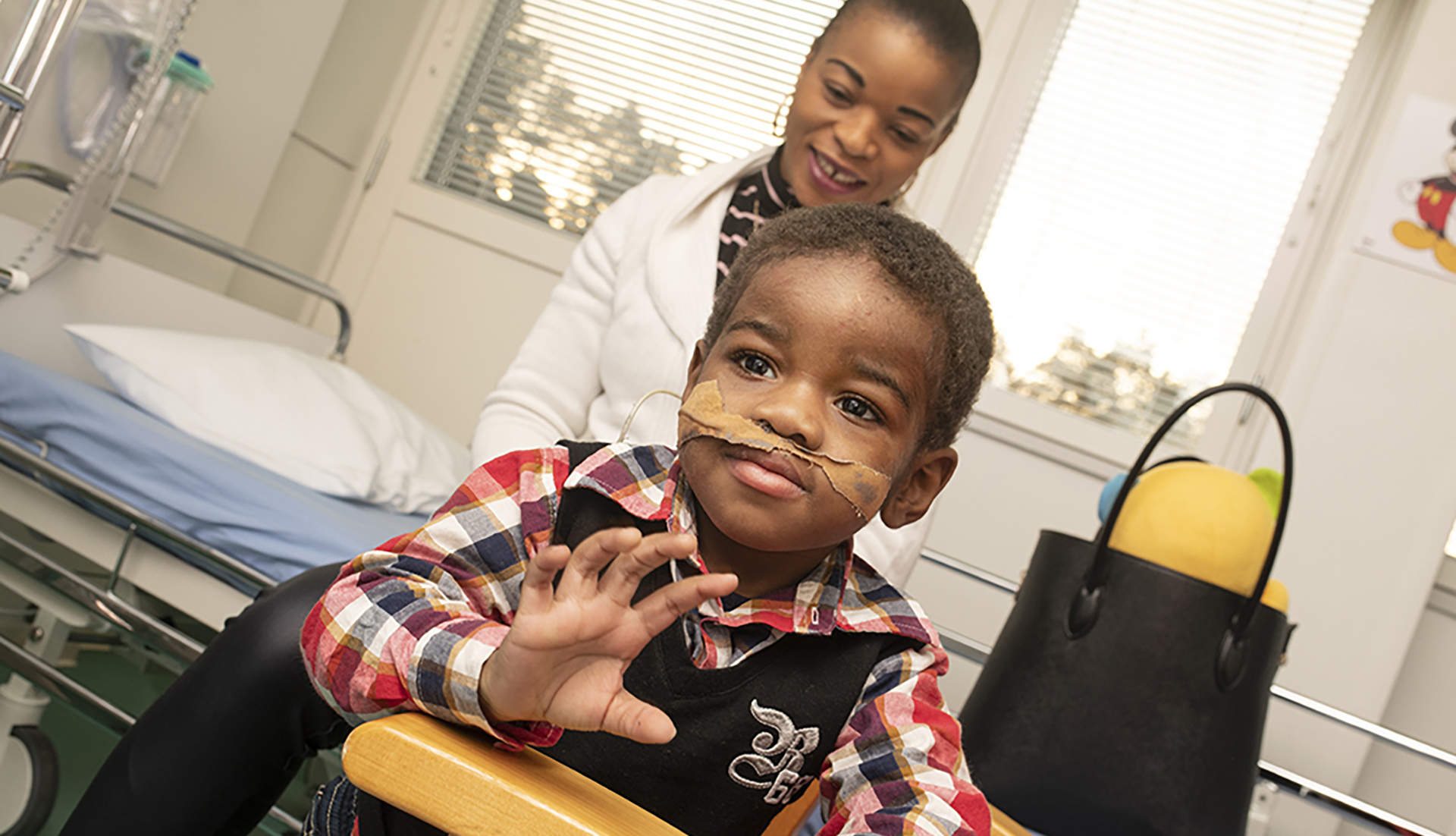 Emille Nyembo was born in the spring of 2016 as the youngest of a family of nine. His parents had moved with their older children from Congo in Central Africa to Oulu ten years earlier.
Just before Christmas, Emille, aged eight months, fell ill with influenza. His haemoglobin fell so low that he was put on a red blood cell drip at the Oulu University Central Hospital. When even that did not improve his blood count, suspicions turned to something more rare in Finland.
The suspicions were confirmed after Emille's sample was analysed abroad: his parents are carriers of a gene that causes a blood disorder called sickle-cell anaemia, and the boy had inherited the symptomatic form of the disease.
With sickle-cell anaemia, the oxygen-carrying red blood cells become deformed, assuming a sickle-like shape. The abnormal cells are fragile and may cause blockages in the vascular system. That, in turn, can result in severe pain, anaemia, serious infections and organ damage.
In Congo, up to 10–20% of the population carry the gene that predisposes you to sickle-cell anaemia, but the disease still came as a surprise to Emille's mother, Anifa Nyembo.
"Many people imagine that sickle-cell anaemia is a national disease in Congo, but that is not the case. I only know a couple of people with the disease – however, after Emille fell ill, I heard from my father that my half-sister, who passed away at the age of four, died of sickle-cell anaemia", Anifa says.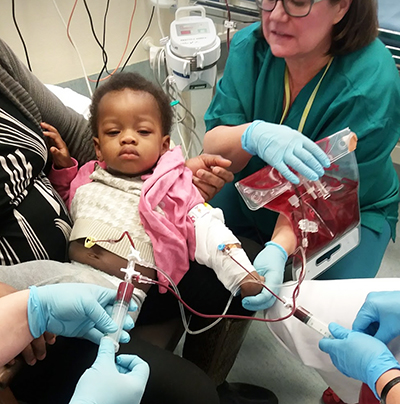 Replaced with healthy red blood cells
In Finland, the most demanding treatment for sickle-cell anaemia has been centralised to the Children's Hospital of the Helsinki University Central Hospital, where Emille also travelled with his mother several times after the diagnosis was confirmed. Initially, the boy underwent one eight-hour blood exchange transfusion manually, and then had automated red blood cell exchange transfusions twice a month.
The blood exchange transfusions and protective hydroxyurea medication relieve the symptoms of sickle-cell anaemia, but the actual course of the disease can only be affected through stem cell transplantation. If left untreated, few patients live long into adulthood, says Paediatric Haematologist, Professor Kirsi Jahnukainen from the HUCH Children's Hospital.
"Significant organ damage is found as early as in young adulthood if the disease is not treated. Later on, the pain becomes more severe and neurological problems worsen. It would be very important to start treatment already as an infant."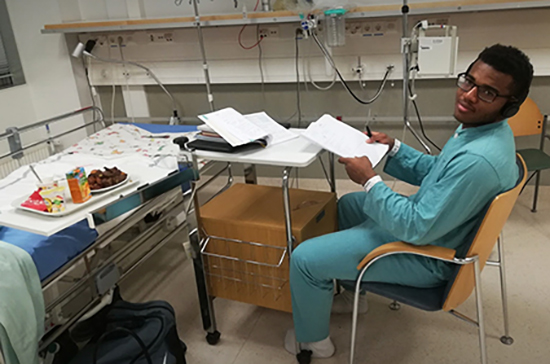 Big brother as donor
Plans for a stem cell transplant were soon started for Emille as well. It involves suppressing the bone marrow stem cells, which produce red blood cells, with strong cytostatic treatment and replacing them with the stem cells of a healthy donor. When successful, a stem cell transplant can cure the disease altogether.
For patients with sickle-cell anaemia, donors are always sought among siblings, not from international stem cell registries. The reason is simple: there are very few donors of African origin in the registries.
"At the moment, we have a poor chance of finding a suitable donor for a sickle cell patient with a registry search, so we have to hope that one of the siblings is suitable in terms of tissue type", Kirsi Jahnukainen says.
There was a suitable donor among Emille's siblings, so last March, 17-year-old big brother Begani travelled with his upper secondary school exam books to Helsinki for a week to donate stem cells to his brother.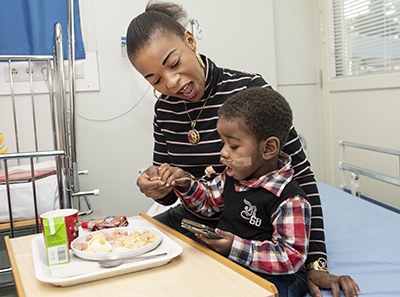 The stem cell transplant was successful, but it has not worked in the desired manner so far, as the percentage of deformed cells has been on the rise again. Following the stem cell transplant, Emille has been treated at the children's haematology unit of the Oulu University Central Hospital for almost a year.
"Even though the first stem cell transplant did not cure Emille, we are very happy with the care that he is receiving here", Anifa says with gratitude.
She hopes that more and more people of African origin would become blood donors. The more donors with different backgrounds there are in the registries, the more likely it is to find a suitable blood product even in rarer disorders.
"It can save someone's life."
Published in Avun maailma -magazine 1/2019.